Quartz, Granite or Laminate?
---
---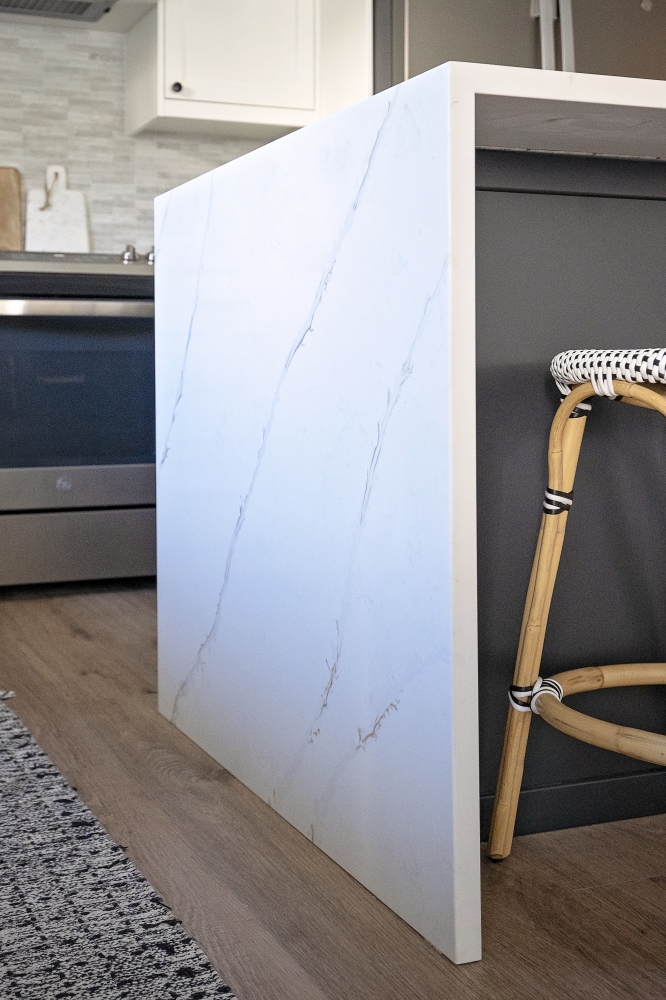 How to Decide
Countertops are an important part of any kitchen renovations. Whether you are tearing out your existing kitchen and starting from scratch or designing a brand kitchen in a new home or just replacing the countertops on the existing cabinetry. We can help you decide what will work best for your needs and your budget.
Most popular for lifestyle and any budget are quartz and laminate.
Quartz Countertops
Quartz countertops are made out of 95 percent ground natural quartz and 5 percent polymer resins. There are several advantages to quartz countertops:
Quartz has the look of stone but is more uniform and predictable than granite and therefore easier to work with when making designing decisions.
Prices vary drastically based on the size of the kitchen but quartz is generally considered to be in the mid to high price range.
Quartz is an engineered product and can be made by local fabricators which cuts down the distance it has to be shipped and so is more environmentally friendly.
Quartz is harder than laminate and granite. It is nearly indestructible. However it can be damaged by excessive heat so you do have to be careful about putting hot pots or pans on it.
Quartz is non-porous and scratch resistant. Therefore, it is easy to keep it bacteria-free.
Granite Countertops
Granite Countertops are made of very hard, 100 percent natural stone. They are mined from quarries, cut down to manageable sizes and then polished to a fine finish and shipped to their final destinations. Granite countertops are similar to quartz but have a few differences. Here are some things to consider
Due to the way granite is formed, each slab is unique and there is a limitless selection to choose from. This can be a good or bad thing. The choices might seem overwhelming however, it is like choosing a work of art that will add distinction and luxury to your house for years to come.
Granite is at the highest price point.
Granite is porous and so can stain from oils and acids. It is recommended that you seal a granite countertop once a year to avoid and minimize stains.
Granite is resistant to heat. Pots and pans can be set directly on it without causing any damage.
Granite countertops are scratch resistant and many people use their knives on them without a cutting board.
Laminate Countertops
Laminate countertops are made from layers of plastic that are bonded to a particle board to create a strong solid surface. Laminate is often considered a low end option but don't be fooled this is not the laminate of the fifties and sixties. Here are some important points about laminate countertops that should factor into your decision:
Laminate countertops are custom made which allows you to choose pattern design, type of wood core, backsplash height and edge style. There is a vast amount of room for personalization and customization.
Laminate countertops do have seams but they are easily minimized by our expert installers.
This option is the most budget friendly. Laminate countertops are easily half the cost of quartz or granite.
Our Sveinco team is happy to further discuss these options with you. Give us a call at 306-621-7200 and we will match you up with a countertop that fits your needs and style.
---