Custom Kitchens & Cabinets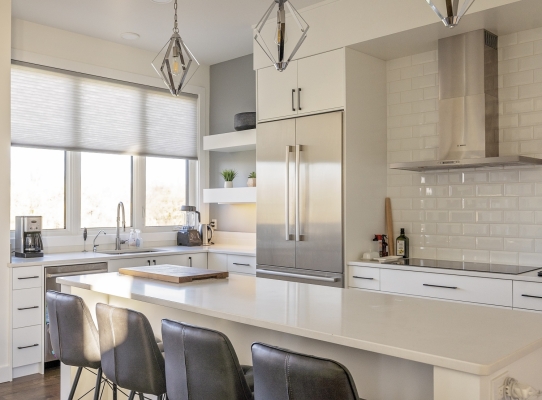 Stand out from the rest with hand-picked kitchen accents
Designing your kitchen how you want it is one of life's greatest opportunities, isn't it? Just imagine...A kitchen island to prep food and serve party snacks on? A revolving cabinet compartment under the counter? An expandable spice rack to easily access those disappearing spice bottles that always end up in the back out of reach? You'll be cooking meals and looking like your favorite celebrity chef in no time.
SveinCo Developments works within your budget to make your dream kitchen come to life. From designing the layout to picking out the type of sink you want, we make sure you have our undivided attention to recreate one of those beautiful kitchens we know you've been eyeing up in Canada's House & Home magazine.
In addition, we custom build cabinets based on your preferred material, style, and texture, and assemble them where they're most desired. Consider installing new kitchen cabinets or renovating old ones for an immediate and cost-effective way to add value to your home without breaking the bank.
If nothing is catching your eye at the home improvement store, this is the perfect opportunity to let us design a modern, custom cabinet model for your kitchen facelift. For inspiration, check out our photo gallery (link) of our past custom kitchen and cabinet redesign work.
---